Composition is a scary word, but it's all about how our image is put together.
This might include:
where the subject is positioned in the photo
how much of the frame they take up
what other elements are in the photo
how much space they take up
the over all "balance" of elements in the photo
Maybe the most important thing when it comes to composition, is for the photo to feel comfortable to be in and to spend time in.
Our aim with our images should be to try and find a balance, and composition is a big part of that. Some elements of an image take up visually more space than others, so begin thinking about whether your image feels balanced, or if it's being "pulled" to one side or another.
Our audience should be able to move through our photo, to return back to our subject.
In this lesson, you'll find my three most important guides to start thinking about regarding composition, before you consider anything like rules, guides, or grids.
The Most Important Thing: Don't Chop the Dog
In general, we want to avoid "chopping our dog". 
There are slightly different rules with horses as they are so big, but smaller animals like dogs, cats, and so on, shouldn't be "chopped."
This means: chopping through the legs, chopping off paws or toes, chopping off tails, chopping bodies in half, and chopping off the tips of ears, should all be avoided.
Are there exceptions to this "rule"?
Of course, there always are.
For example, head and shoulders photos, where the dog is chopped through the widest part of the shoulder, feels totally ok. 
Some extreme close-up shots can also be fine if the top of the head is chopped, for example. These should be purposeful! If the toes or paws are cut at the wrists, this doesn't feel purposeful, the photo is awkward and a bit uncomfortable, or it feels unfinished. 
Below is a lovely selection of my old photos from when I had just started learning pet photography (or before I'd even started learning!) of where I make some pretty significant compositional errors, but for the most case the problem is with chopping the dog.
 Compare them to the second gallery, with full bodies and headshots – ALSO from very early on in my learning process so we can't blame fancy-editing for the improvement.
Some improvement on composition (still some work to be done!)
The Second-Most Important Thing: Breathing Room
Now that you're not chopping the dog, I bet a new problem has popped up:
Not giving the dog "breathing room".
What I mean is, giving the dog a bit of room to breathe. A bit of space below his feet and above his head. Behind him, in front of him. Does this mean he needs to be smack-bang in the middle of the photo?
No.
But photos like this:
Can also feel a bit "claustrophobic". 
Does this mean your dog always needs to be super far from the camera?
Nope.
But being conscious of where their ears, feet, tails etc are during the shoot, OR having the skills and tools to take extra photos to fix your composition if needed (I do this all the time, since I get too excited and just take photos) is really important.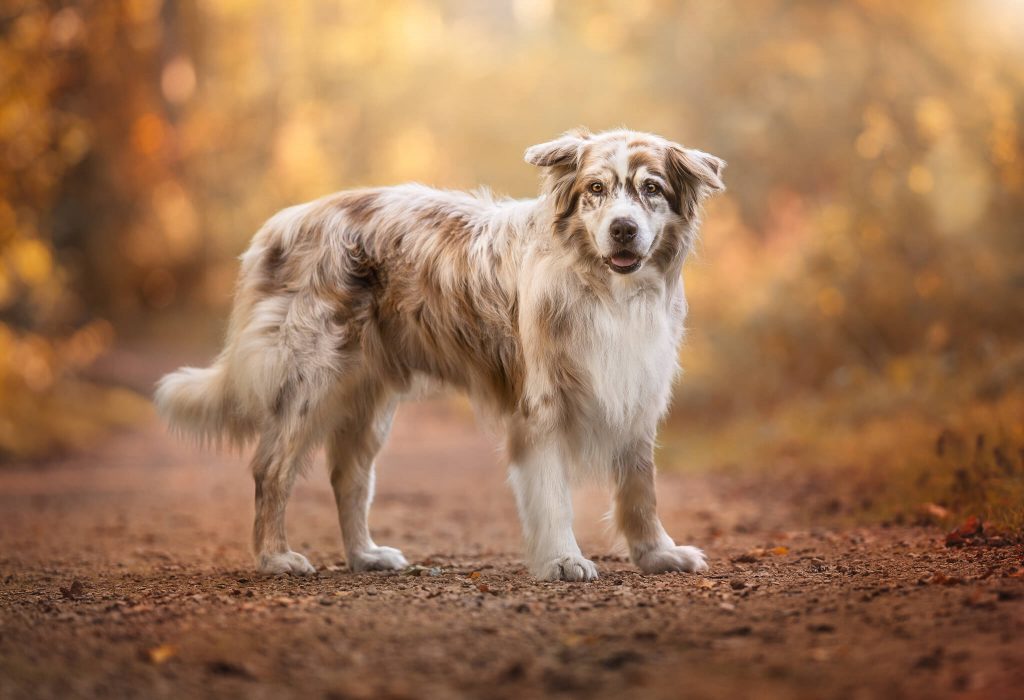 The Third Most Important Thing: Space to Look Into
In general, if your subject is looking to one side, they will need "space to look into". 
The more severely they look to the side, the more space they will probably need. 
Giving them space to look into means we can move through the photo, their gaze isn't blocked by the edge of the photo, and it will generally "flow" better.
These are some not-so-great examples from my past:
You'll notice I've included a couple of photos here where the dog is in the middle of the photo, and he does "technically" have space to look into…
But because he's looking to the side, but with a centred composition, the balance of the photo is off. You'll see what I mean (hopefully) with the examples below. 
You'll notice also a few portrait orientation photos, and you might be spiralling into a panic right now because you've been told that photos in portrait orientation do best on Instagram, but how can you possibly give the dog space to look into with portrait orientation?!
Well, there's a whole lesson on this topic coming up.
But let's just say that first of all, I believe dogs fit much, much better into landscape orientation pictures, since they're horizontal creatures.
Second of all, I don't make my photos for social media. I make them to be beautiful. 
Thirdly, I would say that… 95% of my photos on Instagram are in landscape orientation. I'm currently sitting at 53,000 followers. Similarly, the majority of well-known, high-level, professional pet photographers shoot mostly landscape orientation.
Why? Because the composition will make more sense. 
So… either create photos for a social media orientation, even though I'd argue it makes no difference at all…. or create them to be beautiful and compositionally balanced.
And of course... some much better examples
Hang on Em! Some of these photos are portrait orientation and you just said not to do portrait orientation!!!
Indeed, there are some photos here in portrait orientation. Have a look at the gazing direction of the dog. Is he looking to the side? 
Or is he looking… up?
Of course! Any rule can be broken! But again, I think it needs to be done purposefully or for a reason… and I don't have many examples of that!
I think the photo below is probably one of the few times I've really purposefully broken the rule, and even then I would argue she STILL has space to look into, as she's looking up to the top right corner in a diagonal, rather than directly to the right.