Learn in your own time, across a variety of topics from behind the camera elements, to advanced editing techniques.
Discover how to use natural light, master your camera on manual exposure, feel more confident taking photos even if you're only just starting.
Create a mood, find your style through combining different elements in your pet photos, to create dynamic and captivating images.
Learn how which tools work best when editing your pet photos, when you might wish to use some tools over others, how to selective edit parts of the image, manipulate the light in an image to draw our viewer in, and more.
One-to-one guidance, ongoing mentorship, and small group workshops, for completely personalised education.
Lessons and workshops are now available online and in person, either individually or in small groups! 
Tailored exclusively to you and your needs, we discuss what you want to achieve, what you feel is holding you back, and go through techniques and advice to help you improve, wherever you are in your photography journey! 
Whether you're a complete beginner, or want to know how I edit my photos from start to finish, I can create a lesson for you, with ongoing support afterwards.
Take your photography to the next level, wherever you are in your journey, with a membership in the Learning Community.
Learning Community members get access not only to each available online course, but to exclusive live workshops, Q&A sessions, Editing Livestreams and Dog training sessions.
With a growing resource library of How-To Guides, full editing tutorials, videos on both photography and editing, and monthly critique sessions, the LC is packed full of information.
Whether you're a complete beginner, or more advanced artist, there is always new content and events being added to keep you moving forward with your photography.
Feedback From Past & Present Students
When Emily (Insparwation Photography) announced that she was offering the Improve your Pet Photography course in a membership, I didn't hesitate for a second. You really learn everything, but really everything. From camera settings, editing, use of light and also how to choose the location. I can really recommend this, you will not regret it and it is well worth your money
Had a really great one-to-one photo session with Emily and her beautiful dogs which also included all the editing afterwards. She is happy to share her wealth of knowledge, is extremely patient and is also an excellent teacher. Would highly recommend her!
The "Improve Your Pet Photography" course give you all the fundamentals you need to succeed in pet photography. Everything in the course is thoughtful, easy to understand and so beautifully made. You get to follow these lessons with beautiful photos, clear videos and amazing graphics. I actually don't think you can find another course like this with so much thinking, time and love behind it. It was a true game changer for me and the photos I take now are so much better, so much more thoughtful and has a meaning, all thanks to Emily and her courses!
I was pretty new to photography when I signed up for Emily's Improve your Pet Photography, and Lightroom for Pet Photography courses. I have found the lessons thorough and engaging, and have noticed a real difference in how my photos are turning out. I find myself really thinking about things like composition and lighting in a new and better way. I also find I am better able to get the settings and focus correct each time. Before going through Emily's lightroom course, I was using presets, and couldn't put my finger on why I wasn't happy with all of my images. I've learned so much about colour balance, and 'bending the light' and will never use another preset again. I'm finding editing photos so much fun. I would 100% reccomend Emily's courses to anyone who wants to learn and improve their pet photography
Prior to taking this course I taught myself photography by trial and error, and always wondered why some photos had such great impact and others really didn't. Emily's insight taught me a huge amount about all the little details I could tweak to get better photos, whether that was why my images weren't pin sharp, why the composition wasn't working or the best ways to work with lighting for my little black dog. A lot gets covered with lovely visual examples, and gets you thinking more deliberately about how and where you shoot. This course is amazing whether you're just starting or you have experience and want to fine tune your in-camera process!
I have been following Emily's photography for a while and love her style of photography and editing. When the opportunity to have a Zoom lesson with her presented, I grabbed at it, I was not disappointed, I learnt more in that lesson than I've learned from anywhere else. I am looking forward to continuing my education with Emily and develop my "style" of art under her guidance.
I love the "Improve Your Pet Photography" course from Emily. It has helped me understand light and how to use it to my advantage. The course also taught me how to improve my action shots and composition. I see such a large difference in my SOOCs and overall photographs since this course. I feel like I have more of an understanding of all the elements of a photograph and how to make them all come together into an image I enjoy.
I started taking photos of my dogs last year and had hardly an idea of what I'm doing, I put my dogs to a location took a few pictures and that was it. When I went through the "Improve your Pet Photography" course of Emily, I've learnt so much not only about how to use my camera but also how to use light in the correct way to make my photos look better. It was very helpful for me and made it much easier to use my camera in the right way and to position my dogs when thinking about composition. In all the lessons of this course pictures serve as examples and videos help to understand the theory and explanations. It makes much more fun now going out with my dogs taking photos and actually knowing what to look for and what to do.
I decided to take the courses offered by Emily (Inspawration Photography) because I often felt held back in my photography and wanted to understand where I was going wrong and how I could improve. The "Improve your pet photography" course was incredibly helpful in allowing me to understand how important light can be for our image. It has made me braver in shooting in different lighting conditions and experimenting with it. I feel much more confident now when I shoot backlight now than I was 2 months ago! I have also become much more attentive to my surroundings when walking my dog, always looking for interesting shapes created by nature! I cannot recommend this course enough! You will not regret it! (Instagram: @amieaussie)
I signed up for Emily's Improve your Pet Photography, and Lightroom for Pet Photography courses and I can't even find the words to tell you how much I loved It! The courses helped me so much… I can already see my photography and my editing improving. The courses are well explained and super complete. Emily is amazing at what she does.
I've done a one-to-one editing lesson with Emily because I wanted to learn some editing basics. She tailored the lesson to my specific needs and was very responsive to all my follow up questions. I was a complete beginner and Emily took the time to carefully explain what each of the Lightroom and Photoshop tools does while we were editing a photo together. She explained her process and view on editing very clearly and in-depth. She's also a patient and wonderful teacher and I would happily recommend her lessons to anyone that wants to learn any photography skills because you can tell she really knows her stuff.
Improve Your Pet Photography
Never struggle to take beautiful photos of your pets again.
Gain confidence in using your camera on manual, or develop the skills to get the most out of your phone's camera.
Know how to use natural light to your advantage, what to look for when setting up a photo, and create images you will be proud of.
Perfect for beginners, hobbyists, instagrammers, and aspiring photographers.
Lightroom for Pet Photography
Edit your pet photos the way you want them to look!
No more sliding sliders around randomly hoping for the best. Know what each tool in Lightroom does, and why you might want to use it (or not!)
Stop using presets, and start creating more dynamic images, edited how you want them by working selectively and editing individual elements of your images.
Full tutorials from start to finish, using Lightroom only to create beautiful portraits – download the files and edit along!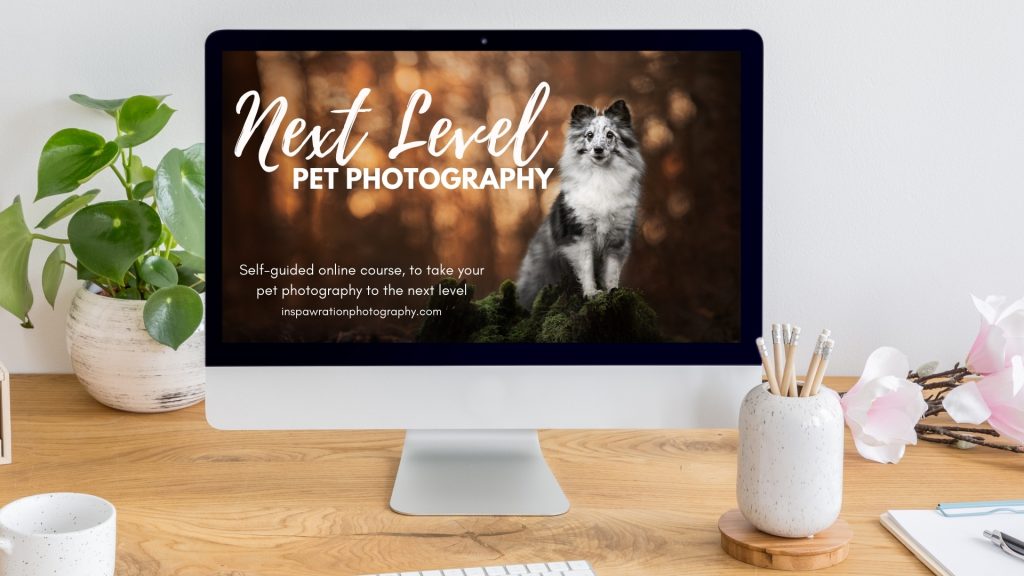 Next Level Pet Photography
Move beyond happy snaps and find your style through creating dynamic, interesting and engaging images.
Learn how all the elements of a photo can come together to create a cohesive mood or story.
Take your fundamental knowledge further, learn how poses, light, expression, location and more can affect the way your audience views your image.
Perfect for anyone who wants to create art, find your style and to take your work to the next level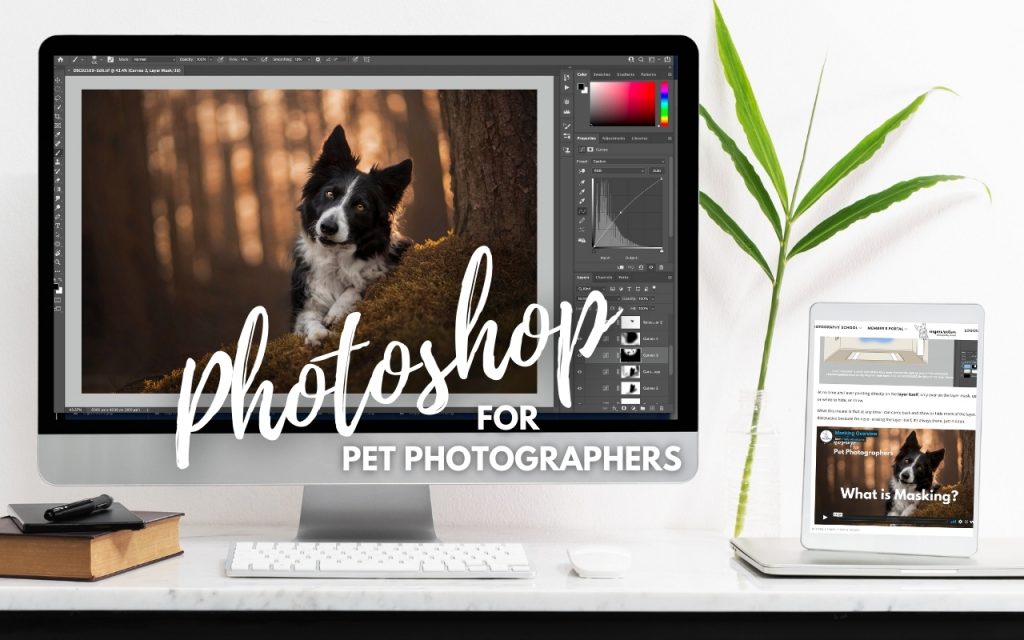 Photoshop for Pet Photography
Coming Soon - Under Construction
Enhance your pet portraits in Photoshop with confidence.
Learn the most important tools for pet photography, and how they can be used in multiple ways for different effects.
Learn how to mask, change colour, manipulate light, add flare, retouch eyes and more. Follow along with tutorials to put your new skills into practise.
Perfect for anyone who wants to do more in-depth editing, whether they are completely new to Photoshop, or know their way around the program.
One to One Lessons & Group Workshops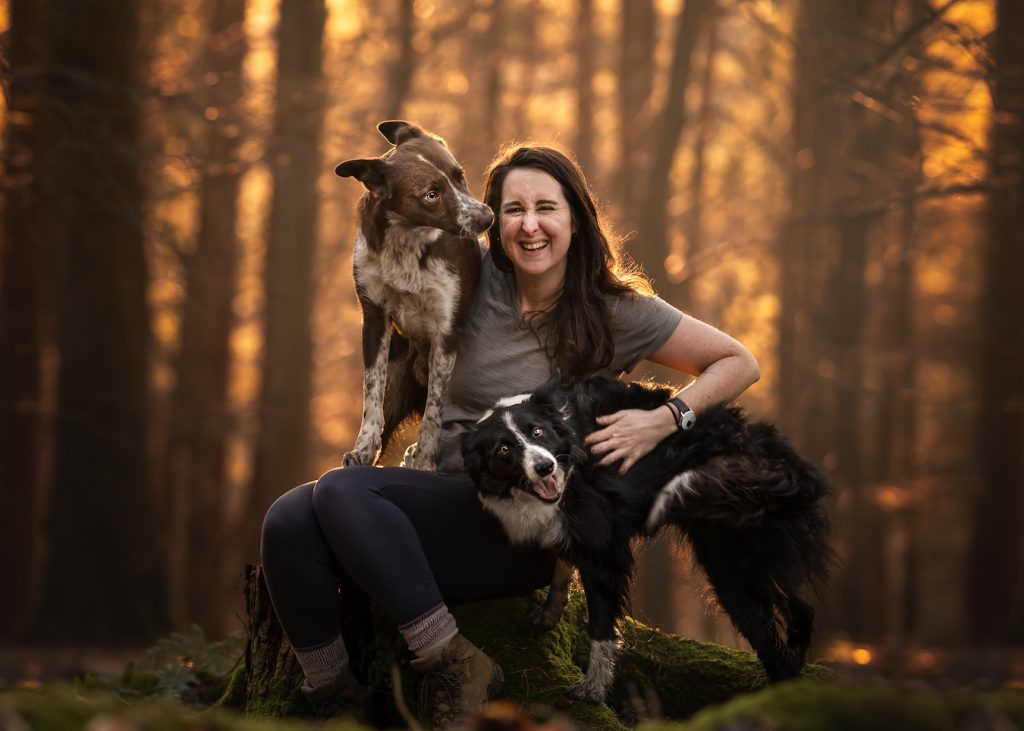 I am all for a fun, relaxed learning experienced, guided by you and your needs. People don't fit in boxes, and lessons take unexpected turns. We will cover whatever is most important to you in your lesson.
Private online lessons (one to one, or share with a friend)
Private in-person lesson (Corona restrictions allowing)
Group Workshops in person
Ongoing fortnightly or monthly coaching calls
Speaking at Photography clubs and other events
There is no one "right" way to learn. Some people learn best in small groups with hands-on experiences, others prefer the distraction-free environment of a one-to-one online lesson.
This is why my lesson and workshop availability is so flexible. From one-off bitesized lessons, to six hour workshops, and ongoing fortnightly or monthly mentorship, I truly want every single one of my students to succeed, to walk away feeling inspired – whether to use their camera on manual for the first time, or to try new techniques in Photoshop.
I'm not happy unless my students are happy, so offer ongoing support after your lesson if you have questions, want some feedback on an image, or just want to show me what you've created!
Not sure? Get in touch for an obligation-free chat.
Get started now with my Top Ten Tips - FREE Mini-Course
Get access to my mini-course with my ten favourite ways that pet owners, pet lovers and anyone with a camera or phone can immediately begin improving their photography, as well as exclusive access to a sample lesson from the "Improve Your Pet Photography" course.
Just pop your email address in below for the lessons to be delivered directly to your inbox.
(Visited 1,989 times, 10 visits today)