There are three main ways we can capture action in our photos. You will want to experiment with these to find which suits you and your equipment best. Which method you use may vary depending on what TYPE of action you're photographing, whether sideways, agility, running toward you, or candid! 
Best for sideways action & leaping shots, and photos where there aren't too many "things" in between you and the dog (like agility jumps), and where the plane of focus doesn't move too much. 
OR… you have a sport-specific camera like a Sony a9 with full electronic shutter and it can handle this kind of tracking. Most cameras can't! With most cameras, when the shutter curtain drops, the camera is "blind", and in that split second, the dog moves forward a whole body length. When the camera can see again, it struggles to refocus. Therefore, this method doesn't work well on most portrait cameras when the plane of focus is moving rapidly.
Have your focus area on wider than normal. Something like "Zone" could work, assuming you're in a nice, open area with not much else for the camera to pick up on.
Start the dog somewhere that you can already focus on it. Eg., don't hide it behind a bush or log. 
Start the dog running. Trigger your back button focus. Tracking should continue to lock focus on the dog, but obviously make sure you also move your camera to keep good composition and so it's inside your focus area.
As the gets where you want it to be, fire off a series of photos. Precision isn't so important here because the plane of focus isn't changing much (eg., the dog isn't running toward you). 
Most important here are:
high shutter speed
wide-ish focus area (maybe not the widest, but 2nd widest)
focus area "locked on" the dog before it takes off
open location without things for the camera to grab onto
good amount of light and contrast
Manual Timing is a technique for when your camera struggles with tracking or keeping focus on moving subjects, for example when a dog is running toward you.
It relies on us tracking the dog, then waiting for the optimal moment to trigger the shutter, rather than "spraying and praying" or taking a whole series of photos where only the first is likely to be in focus.
Here's how to do it:
Keep your camera in AF-C and choose a suitable focus area. This may be wider (eg., Zone) if you're in a nice open area with nothing else for the camera to grab onto, or you might want to use a smaller area. Experiment to see what works best for you.
Trigger the focus, so your camera starts focusing on whatever is inside the focus area (hopefully the dog). I use Back button focus for this. Make sure you can SEE the dog, eg., it's not hidden behind a lot.
Get the dog to do the action you want. Track the dog and don't fire off the shutter until the PERFECT moment! Assume your first photo will be the ONLY one in focus, so it needs to be at the ideal time.

This is why photos of dogs jumping over logs are so popular: it allows you to use this technique. Have the dog sitting behind the log, trigger your focus. Have the dog run toward you, and WAIT until it is in the air over the log to take that single shot! This will likely be more accurate than taking 5 photos before the dog has taken off, and the camera is not able to refocus quickly enough.
You may wish you keep one eye on the dog, rather than the viewfinder – especially with mirrorless cameras as there is a split second delay!
I found this especially when I was doing frisbee shots lately: I'm so used to doing manual timing that I tended to wait until the perfect moment…. but while this works for a leapy boingy Journey, it meant I was often missing the split second BEFORE the dog bit down on the frisbee… because what I was seeing on the viewfinder of my Sony was a miniscule amount of time BEHIND what was actually happening! I had to force myself to trigger the shutter EARLIER than I thought I needed to.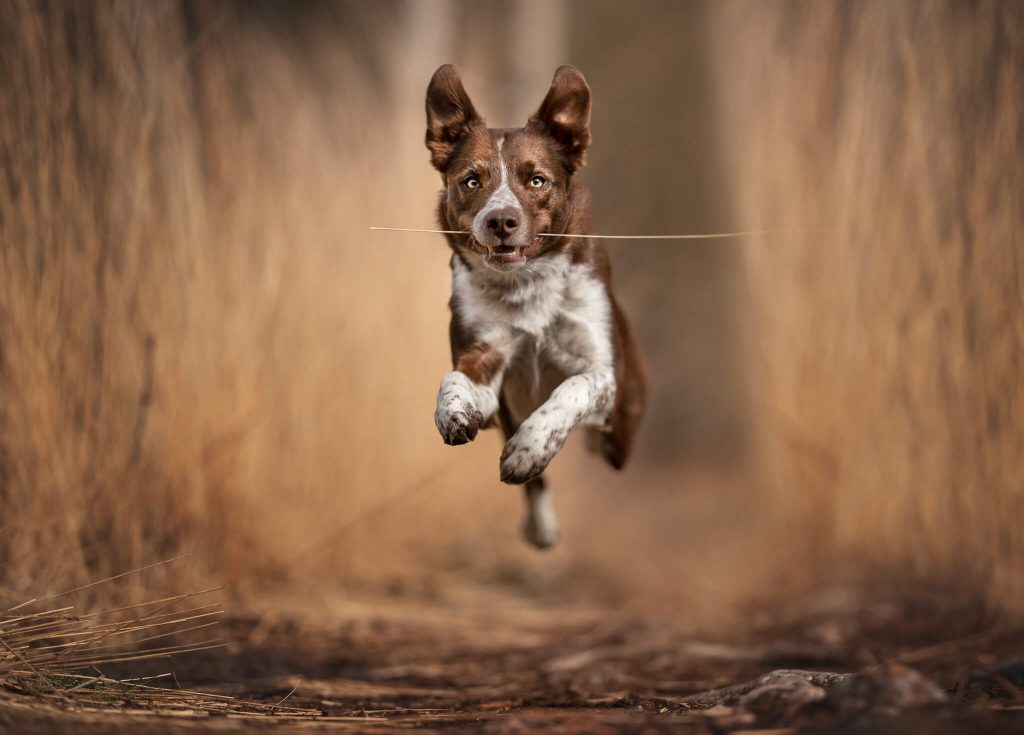 Pre-focus is a technique which can be useful in certain situations where you can predict exactly where the dog will be going, and you have something to focus on before it gets there – for example, agility competitions, and even a dog jumping a log.
This will break some of our rules, but it can be especially useful for cameras which just aren't fast enough to track or refocus on fast-moving subjects.
What we're going to do, is tell the camera to focus on the obstacle, then wait for the dog to get there, and fire off a few shots as it goes over the obstacle, aiming for perfect timing as it's in the air, its eyes about where out focus has been set.
For this, put your camera on Single-shot AF. We don't want it tracking.
Get the camera to focus on the bar of the jump or the log. 
You can now recompose the shot, as long as you don't ask it to focus again, and you don't have focus triggered by the shutter half-press.
As the dog jumps, be ready. When it's in the optimal position, take 3-4 photos – depending on how many FPS your camera does. You may only need to/be able to take one photo. 
You may wish to use a slightly narrower aperture here so if it's slightly forward or backward of your pre-focused area, the depth of field will be wide enough that the eyes are still in focus. 
As with all action photos, this takes practise too, as you need to time the moment in the air so the dog's eyes are in your focus zone. 
You can pre-focus slightly in front of the obstacle, maybe with a piece of grass or the number or foot of a jump. That way the dog will be further over the jump and at a more dramatic part of the jumping motion, when in focus. 
You can use this technique for a lot of agility obstacles. Just be thinking about where you want the focus in terms of where the dogs eyes will be and how to achieve that optimal moment – for example, coming out of tunnels look best when the dog is a step or two out of the tunnel, rather than when their eyes are at the very edge of the tunnel mouth.