I'm the first to admit that I am not an expert at photographing with my phone – after all, I love the results I get from my camera and lens, so my phone is mostly reserved for happy snaps.
In this lesson, we'll be looking at some ways you can get the most out of your phone, and things to keep in mind when using your phone for photos. Keep in mind that the majority of lessons you'll be seeing in your membership are still VERY applicable to phone photography, or possibly even moreso!
Some things, like getting down low, may need some modifications because of the wide angle. 
Other things, like making sure you're conscious of light direction and how much ambient light there is is even more important with a phone. 
What camera setting you use will depend on what kind of photography you're doing. Obviously different phone models and brands will have different capabilities, so it's worth seeing what yours is capable of.
It can also be worth checking out premium camera apps like Halide that allow you to take photos in RAW format, meaning you have more data to work with. 
Landscapes with dogs? Use the normal "Photo" mode. Get low, play with angles. 
Portraits in the woods? This is where "Portrait" mode will come in handy.
The next options and settings are more specific to an iPhone as that's what I work with, so find the equivalent in your own phone if you use something different.
Above: Photo mode zoomed in 2x vs. portrait mode at f/1.4. Keep in mind these photos are taken in a really ugly, average location, with flat lighting, and aren't edited. They aren't meant to look good, they're here as examples.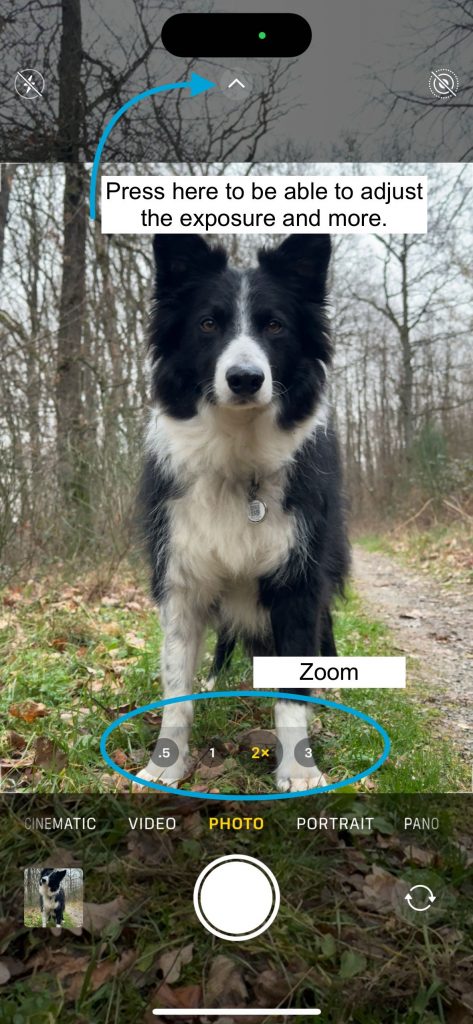 When in Photo mode there are a few things you can adjust to change how your photo comes out.
Zoom: 

Zooming in can be a good way to change the look of your photo, as it will reduce some of the distortion from having a wide lens. Keep in mind that because this is "optical zoom", it's kind of like zooming in on your photos on your computer rather than a lens moving or glass changing to magnify the image. This means the more you zoom in, the picture quality may also get worse, because the camera/sensor can't actually SEE the object/subject any better, it's just cutting out more and more of the surrounding image.

HDR, Macro etc.

 Personally I have HDR turned off as I feel like it goes to the extreme of making contrast. Macro mode has proved useful for taking photos of snowflakes, but I'm not sure it will be so useful for dog photos.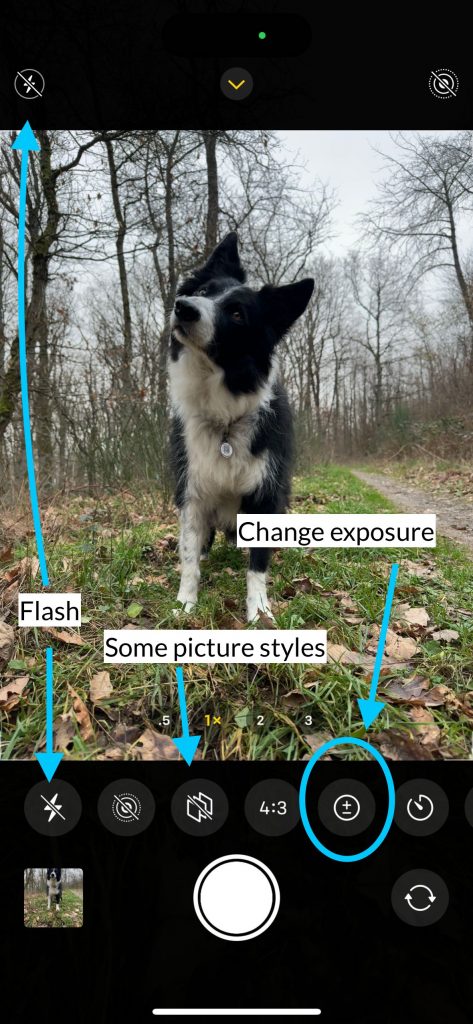 Flash: I highly recommend you avoid using flash directly on your subjects. The light is harsh and unflattering. Get more light in your location if your camera is being forced to use flash.
Styles: Some cameras have photo styles, from Standard to "Rich Contrast," "Vibrant" and more. Personally, I would rather do these edits myself than have them attached to the photo
Exposure: This looks like a Circle with a + and – symbol, and allows you to manually darken or brighten your photo. This could be quite useful! For example, if you're photographing a dog but he looks too dark, slide the exposure to the right to brighten the whole image. Or, if your camera sees a black dog and decides the whole photo is too dark, you might want to turn down the exposure by sliding the slider to the left. Be aware that raising the exposure/making the photo brighter might make areas in the background way too bright. Be aware as well that darkening the image may make some parts of your subject so dark (especially if they're black) that you lose detail and data in those areas.
Portrait mode gives us a couple of other options that it's worth being aware of. Portrait mode also gives us a digitally blurred background, that tries to emulate/create the look of a portrait lens. The issue with this can be that the software tries to figure out where the subject ends and the background begins, and this can be very difficult with furry dogs, as they aren't made of smooth lines like people generally are, so you can get some weird effects of not-blurry-background next to blurry background. 
Making sure that there's an obvious difference between the background and the subject, and getting a good amount of light on the subject will help your phone cut it out from the background. A fluffy brown dog on a textured, leafy brown background is going to be much harder than a smooth brown dog on a further-away green background, for example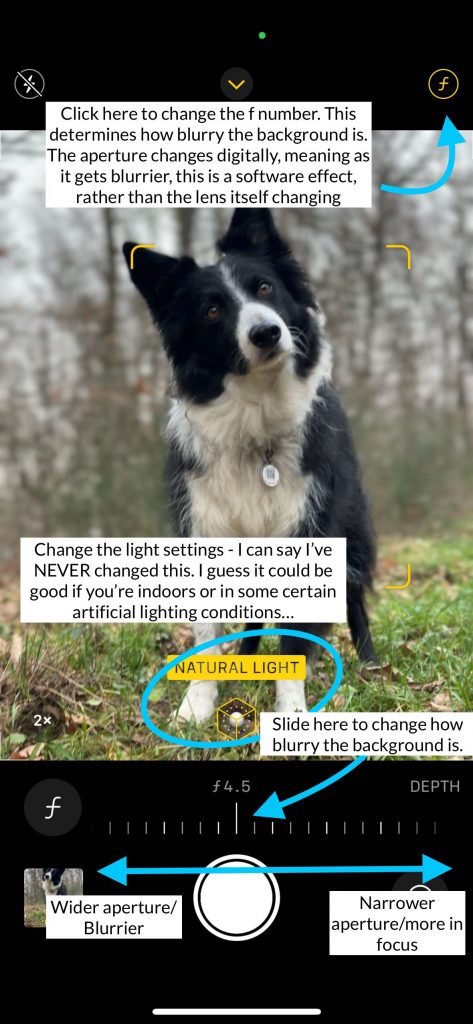 Change the f/ number: with portrait mode, we can change the f/ number, or the aperture. This makes the background more or less blurry. A smaller number, sliding the slider to the left, makes the background blurrier, and a larger number makes it less blurry. Keep in mind that quite often more blur can be too much blur, especially when we're trying to cut furry dogs out of the background and it looks a bit weird. 
Change the light settings: From natural light to a few weird studio light setups, you can change the light here. I've never used this feature and don't think it would be especially useful for pet photography.
The Most Important Things
Because of the sensor size, and the fact that you're probably shooting in JPEG, one thing to be especially aware of is getting enough light on the dog. Taking photos in low-light situations, deep in the woods for example, is going to be more difficult with your phone, and especially with black dogs. The phone simply can't retain as much data. So finding good locations with enough SOFT ambient light (more on this in the Light lessons), will make sure you get the highest quality photos from your phone.
Finding the right angle and perspective is also something to be aware of, since your phone's camera is a rather wide-angle lens, which can result in distortion, particularly if your dog's head is for example, at the very top of the photo because you get down low (which I recommend). You can fix this by zooming in (potentially resulting in a loss of image quality), or fixing it in an editing program like Lightroom.
Lastly, be creative and purposeful, if you want to make nice pictures with your phone. Remember we talked about purpose? Taking 3,675 photos of your dog sleeping on the couch is one thing, but if you want a nice, artistic, impressive photo, you may need to spend a bit of time: find a good location. Check the background. Check the light. Play with your angle. Play with the dog's pose. Think about composition. There's a reason why not everyone is a photographer just because they take a photo. Great photos take time, thought, effort, and knowledge.