Welcome!
On this lesson page you will find:
the .pdf workbook
the zoom link for the live workshop
the workshop recording
any other materials, information or resources 
Here is a diagram of the exposure triangle. If you find it helpful, use it, if not… don't!
The problem for me with the triangle diagram is that it feels misleading. Eg,. if you have your shutter speed at 1/2000 you'll need your ISO at 1600? Or why are they at the same end of the triangle? Does 1/30 go together with f/22? For me, the triangle as a visual doesn't work so well.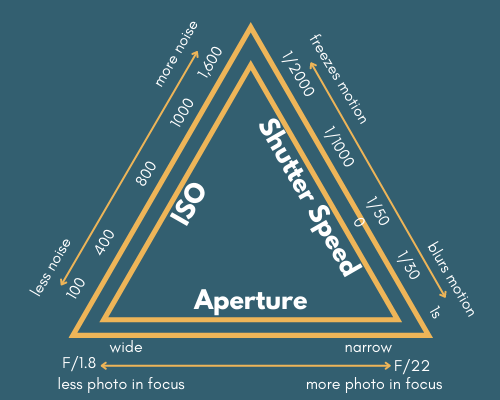 I therefore made these diagrams as an alternative way to try and show how the 3 parts of the triangle go together, representing one side of the scale as making the image darker, and one side of the scale as making it lighter.
Therefore, if you adjust one setting toward the dark end, another setting will need to go toward the light end in order to keep your exposure where it was. 
Similarly, if you want to make your photo lighter, you would need to adjust one or two sliders toward the "lighter" side of the scale.
Below the first "scale" are some hypothetical scenarios where you would need to change the settings of your camera. I will put answers beneath each shortly.